El Sol y La Luna Music is a record label and music production company based in Stockholm, Sweden. It was founded in 2009 by the Argentinian producer and artist Natalie Knutzen. El Sol y La Luna Music mainly produces acoustic and world music, but work with various kinds of styles, as well as voice-over recordings, soundtrack productions, and theme songs.
In the studio, El Sol y La Luna Music provides different courses and classes in music production, vocal technique and artist coaching, to name a few. To learn more about current classes and courses click HERE. 
About the owner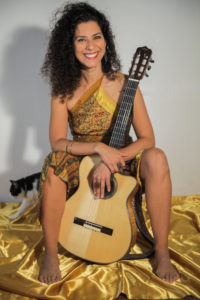 Natalie "Katten" Knutzen moved from her hometown of Buenos Aires (Argentina) to Stockholm (Sweden) in pursuit of love in 2002. She had studied jazz guitar in college and vocal technique with private teachers, so her first occupation in Stockholm was as a private teacher in guitar and singing as well as a session musician. Eventually, she also started writing songs and having a band of her own. But it wasn´t until she shared a studio with the established producer Stefan Gräslund (Veronica Maggio), who encouraged her to start producing, that she actually decided to get into the other side of making music. "After all", he said, "why pay a producer, if you are the one writing all the music and the arrangements, you just need to learn how to push the buttons".
What started as "I'm just gonna learn the basic to be able to make some demos of my songs" then grew into a full-time occupation along with her lessons and artistry.
"Slowly but steady" has always been her motto and that´s exactly the way she approaches every creative endeavor. "Quality before quantity cause every song counts!"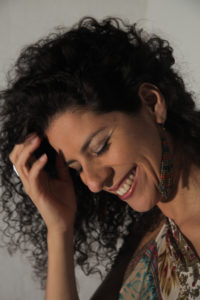 In 2011 after recovering from a period of depression, Natalie decides it's time to release a single with her band-at that time called Beabella. Not really knowing who would be interested in releasing her material and to frail to handle the usual flow of "no" from the music industry, she decides to take matters in her own hands and release it herself.
El Sol y La Luna Music Record Label was born and the first single to be released was No Te Doy Más by Natalie Beabella. Since then the label and production company has been working with numerous projects providing services like mixing, production, recording, songwriting and artist coaching, from more acoustic music to rock, pop, podcast, voice-overs, audiobooks and meditation music.
Klubb Under Solen Och Månen
In 2019 Natalie decided it was time to expand and together with her artists started the club " Under Solen och Månen".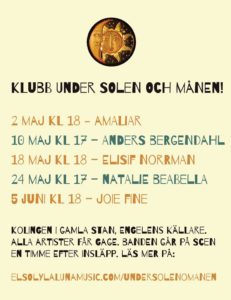 The club took place in Stockholm in May-June 2019. It was a series of 5 concerts once a week, presenting one artist that was either released by El Sol y la Luna Music or had had some collaboration with the company, per time.
The thought behind it was fair pay for musicians, trying to revert the ongoing trend of medium seized venues closing, reducing more and more the places to perform music and at the same time being able to pay fairly to all the musicians involved. Another important point was to do this maintaining equality and diversity throughout the whole project.