About Joie Fine live
Joie Fine's melodies, lyrics and warm voice together with her piano playing will give a whole new meaning to the word performance. With an incredible technique that allows her to reach the high and the low as well as the strong and the soft in her voice, she´ll make you think about that what really matters in life, bringing you closer to your own emotions.
Lyrics and music
Joie Fine has been singing and writing since she was a child. The main inspirations that helped her to "grow as a person and as musician" have been, among much others, artists like India.Arie, Stevie Wonder, Maria Mena, Lauryn Hill, Alanis Morissette and Robyn.
Joie Fine aims straight to the heart. She seeks to inspire the public with her own stories and life experiences to break the silence of shame. Her lyrics talks about listening to your inner voice, following your real self and with that find the strength to follow your own path.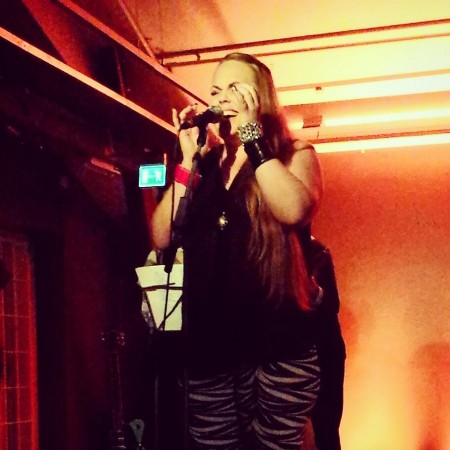 Previous events
Joie Fine started her career performing at weddings, christenings, funerals, school cafeterias and as intermission during various dance shows. Over the years she has developed her own songwriting, and in September 2014 her first EP "Unfolded" was released through El Sol y la Luna Music.
In her hometown Stockholm, Sweden, she has performed at various places, among them: Kungsträdgården, Pet Sounds Bar and Fotografiska muséet (Photographic museum).
Joie Fine has as well been singing backing vocals on stage for Loulou (from Swedish Idol), Saft Stockholm and Kristina Westin. Moreover, she has been recording backing vocals to both Kristina Westin's record In The Back Of My Mind and Saft Stockholm´s latest album from Svart Vatten. Joie Fine sings the signature tune to the comedy podcast Suck My Style. The signature tune has been recorded as a single together with Nedjmo Marx and Svante Lodén (Damn!). It was released in May 2014 and followed up by a video that can be seen below.
Joie Fine – En kärlek som alltid bär
Äntligen är videon till "En kärlek som alltid bär" ute! Tack alla som varit med och gjort detta möjligt! <3
Särskilt tack till Natalie Katten Knutzen som proddat och arrat låten så fantastiskt på El sol y la luna music, also special thanks to Santi Lorences for shooting and directing this video so beautifully!
Spotify: https://open.spotify.com/track/01DEhjhTBPvBGbfA4mkgwv
iTunes: https://itunes.apple.com/se/album/en-karlek-som-alltid-bar-single/id1068895712?l=en
Youtube: https://youtu.be/81DpuD6EGXU
Instagram: https://www.instagram.com/joiefine
Kärlek,
/Joie Fine